Comprehensive guide to successful conferences
Let's meet at Barcamp Bodensee
#bcbs15 this weekend: June 12-14, 2015.
Ineffective workshops can be deadly.
This is the ultimate pre-conference checklist - 10 critical factors for putting a successful meeting together.
Going down history lane… just a bit 🙂
A barcamp is a user-generated conference. Some also call it an unconference. The program is put together by participants first thing each day the unconference is held. Each participant introduces themselves and provides three key terms:
Who: I am Urs E. Gattiker from Zurich, Switzerland
Term 1: benchmark metrics
Term 2: minimally invasive surgery / technology
Term 3: hiking
One or two ideas are then presented by the individual. What are they willing to share with other participants? This could be in the form of a presentation, workshop or discussion. If enough people will be interested, the idea gets assigned a time slot.
The first barcamp was organised in a week. It was held in Palo Alto, California, August 19–21, 2005.
My first barcamp was a blogcamp in March 2009 in Zurich with the hashtag #bcch4. The next one followed in Rapperswil in October of the same year with the hashtag #bcrappi. Later that month we had Barcamp Liechtenstein with the hashtag #bcli09 – Soziale Medien für gemeinnützige Einrichtungen: Wie nutzt man diese besser (Making better use of Social Media in the context of any industry – my Slides with checklists). Three barcamps in 2009 alone, what a ride it was…
Barcamps are great places to meet like-minded people with very different brackgrounds, training and interests. From hobby photographer, designer, and coder to top-notch professionals in various disciplines such as medicine, genetics and sociology. Everybody contributes something, including volunteering time at the registration desk or helping with clean up. The opportunities to share and learn seem limitless.
For me, a repeatedly exceptional barcamp over the years has been Barcamp Bodensee (see Twitter hashtag #bcbs15, #bcbs14, #bcbs13, #bcbs12, #bcbs10, and so forth). Every time I go, I learn a lot while having a great time (read Barcamp Bodensee #bcbs14: Synergien finden – Finding Synergies).
Do barcamps differ from hackathons?
They say imitation is the sincerest form of flattery, so if people start copying you, you must be doing something right. Today people use various types of conferences that are different shades of barcamps. Many call themselves unconferences and have copied part of the idea that led to barcamps.
At a hackathon you are likely to meet coders, programmers, software engineers and so forth. The sociologist or tool or die maker are a rare specimen at such an event. Often the focus is on a theme (e.g., wearable and / or mobile technology). Attendees form groups of 2 to 5 people and start on their project. hackZurich attracts about 400 and focuses on a theme, with the objective being to program an App in 40 hours or less.
There are barcamps that use this approach as well, for instance, when a start-up weekend is organized. Few people form a group and then get cracking on their business idea, which may include working on an app.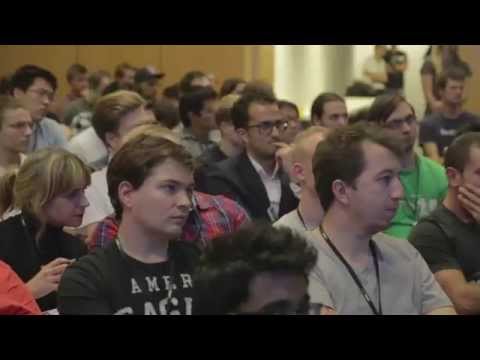 What makes barcamps and hackathons similar?
The Zurich Hackathon (October 4-6, 2015) is similar to a classic barcamp. Both require volunteers to donate their time and know-how to make it happen. Without them, neither barcamps nor hackathons are possible.
In addition, well organised barcamps or hackathons manage to get sponsors ranging from Zeppelin, to Daimler, Ruppaner, Sonntag morgen, and other local and not-so-local businesses.
Originally, no fees were the norm for such events, but these days some charge, for example using rising fees. Here the first delegate registering pays $20, then $21, and so on, until the last registrant you let in pays $350 or thereabouts. This allows the organizers to make some money or at least recover the costs if few or no sponsors pick up the tab.
Can corporate barcamps work?
Digital Accelerator Allianz took up the idea of a barcamp. For this purpose it organised a hackathon towards the end of May 2015. Its intention was to get new ideas and apps developed in that time.
The company proudly announced the winners, who got some cash prices, as illustrated here in this Allianz Tweet (image below).
Another approach is an ideathon. Similar to a hackathon, experts attending the ideathon choose and join groups of 2 to 5 people to brainstorm, generating novel solutions.
These 'great ideas' are pitched to the company and the best receive cash awards, such as Novocure ideathon (see image below). So yes, corporate barcamps can work. But unless we follow best practice, they leave a foul aftertaste.
Below I outline the things I feel are crucial to a successful event.
Best practice checklist for organisers
Based on my experiences with barcamps, worshops, hackathons and conferences, as attendee, co-organizer and program chair / 'chief', I have created this checklist to ensure your event works.
Final note
As a small company, you can get exposure by sponsoring a barcamp or a conference, but even more interesting is the chance you get to exchange ideas and share know-how with others.
For a large company, branding and image-building opportunities are great when sponsoring a barcamp or hackathon. You can sponsor goods in kind, have a booth at the event, or pay the organizer some cash to have your logo prominently placed.
However, if none of your staff attend sessions, you miss a great opportunity to connect with delegates and help build the company's brand or reputation. The most successful sponsors seem to be those that get a top manager to attend (see Hofrath und Süss). Recently, a car manufacturer had one of its top three managers attend a barcamp for 1.5 days.
I have met incredibly talented and motivated people while attending these events. I was lucky enough to hire several of them or put them on boards of companies we have invested in. I continue finding collaborators for projects that my firm would be unable to take on without their help. Barcamps rock!
What do you like most at conferences you attend?
What do you find most annoying at workshops or meetings?
Have you organised a barcamp or conference? What tip(s) can you pass on?